I've been busy since July. However, I did not have all that much to show for it. Finally, I've got something meaningful to report. This weekend was the first of a series of maintenance weekends at Camp. Some of it was long overdue.
The first project was the Jagende hutte. I built this blind back in 2003 from a packing crate and scraps of T1-11 siding. It has held up remarkably well, but the roll roof started to go a while back and it was time to replace it. SuperCore uses this blind a lot. He was out to help. Angus did all the hammering up on the roof for the stuff I couldn't reach from the ground. It's probably good for another 15 seasons.
Here's the link to the article from 2003.  Angus has sure grown up!
I found a neighbor taking out a deck in his back yard and asked if I could have the wood. Another neighbor had about 40 foot of fence come down on him. I asked if I could have the pickets. SuperCore lent me his trailer, and I brought this all down to camp Friday night. The plan is to build a permanent blind for Angus at Lazy Boy, put some siding on Supercore's blind at S-10 and build a new ground blind just behind the house to cover about 300 yards of pasture in two directions. The other project we intend to accomplish is a new tower blind overlooking Hootin' Holler, but that will take a bunch of material we have yet to acquire.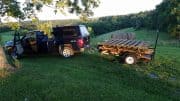 Also on the plan was the first steps in our ladder stand renovation project. The stand at Campground had two blown welds just below the seat. Garbage pit and Newstand have fallen into disuse. Virginia is rusted beyond redeption and Blackberry has a rusted shooting rail. The plan is to:
 Replace Campground with a new stand.
 Pull Garbage Pit and NewStand out.
 Replace Virginia and BlackBerry with parts rummaged from the other stands
These are all Hunters View 15 foot buddy stands. The oldest is at Virgina. It went onto its first tree in 2001 and has been on two more since. It has now rusted beyond redemption. The others went up from 2003 to 2008. Hunters View went out of business long ago, so there are no replacement parts out there.