I was out shooting with my new Ruger American Predator in 223 REM. Overall, I impressed with a lot of things. There are a few flaws, but they are minor. I am also very happy with the Bushnell Banner 6-24X40mm scope I mounted on it.
My only beef is that this is not a rifle that single-feeds easily. Feeding on the magazine so far has been flawless, but popping a single round in, no matter what bullet or seating depth, invariably causes trouble. I'm had that trouble before with a couple of rifles. It is a minor irritant. I have seen similar complaints out on the web, and I figure someone, someday will build an aftermarket magazine insert that fixes this problem. I'll be in first in line to buy it.
That aside, this rifle has been a joy to shoot. I had trouble initially finding a load that worked, but the problem turned out to be the weather of all things and not the rifle itself. More on that in a bit. Yes, I can believe this is a sub-MOA rifle out of the box. It did not happen quite that way for me, but it was close.
As you have probably heard me complain before, there can be a lot of wind at camp. We have a commanding view of 4 counties from the front porch. The shooting bench overlooks the 100-yard target frame on roughly a North/South line. When the wind comes out of the west, it can really play hell with the groups. With those little .224 bullets, especially so. I had tried once before to get a good group with this rifle and failed miserably. The wind was not only blowing the bullet around, but I could feel it buffeting me. I went home and regrouped. When I came back to camp, I came prepared.
Last year, you may remember, I came out over 4th of July Weekend with the Whelenizer, with the goal of finding an optimal load for the 200 grain cast lead bullets. I used my RCBS 505 scale to throw my loads. It was hard. The wind kept disrupting the scale, throwing off measurements by a grain or more unless I took severe measures. In response to that, I purchased a simple Frankford Arsenal electronic scale this spring, figuring that would take care of the problem. The electronic scale improved things quite a bit, but it did not make the problem go away. That scale, by the way, is not a bad scale. I tested it and was getting within .1 grain of the RCBS.
I had been using a diamond target for the past few years, but having the black diamonds made it hard to see the bullet holes even with the scope at maximum magnification. My solution was to redo the target with lighter diamonds.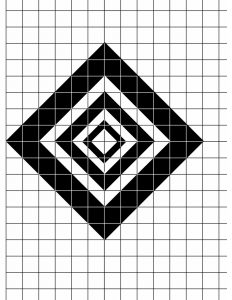 This year, over 4th of July, I had some time to really work on the Predator. Just to reiterate from last year, I'm using a Lee Precision Hand Press to work up loads. I'm sizing, and priming at home, and using the press strictly for bullet seating.
I tried the 55 grain Hornady SP Interlock, the 64 grain Winchester PowerPoint and the 75 grain Hornady SPBT. I used H4895 for all of them. Of the three, the 75 grainers did the best. Vertically, I had a sub MOA group. However, the wind was blowing so hard they smeared 4 inches in the horizontal axis. The fix.
Next time out, I will also have a windscreen for the electronic scale. The wind perturbs the scale up to a grain one way or the other. I had a hard plastic case left over from some piece of electronic equipment. It had a clear top. I used that, and it did a good job of protecting the scale from the wind. When I got home, I drilled a 3/4″ hole in the clear lid and cut a 1/4″ slot in the base. You can see from the pictures how it works. I dump a scoop of powder in. That gets it within a grain or so, and then trickle in the rest.
Beyond that, I am going to have to become an expert on wind doping or shift the shooting bench and fire out to the east when the wind is blowing that hard.