No, this is not some New Age drivel. This is all about mice and deer camp and the removal of the former from the latter. This is not an original idea either. I've been reading about this for years, and it finally dawned on me last year as I was leaving camp to try and make one. Supposedly it was going to be a perpetual mouse trap that would remain effective from the end of deer season to the beginning of turkey season.
Wheel of Death MK I was constructed in less than 15 minutes, AFTER I had already locked up and was heading for the truck last December. I told the tribe to hold on and I went back in the house and grabbed a bucket, a coat hanger and a board and used a deli tray in place of the can.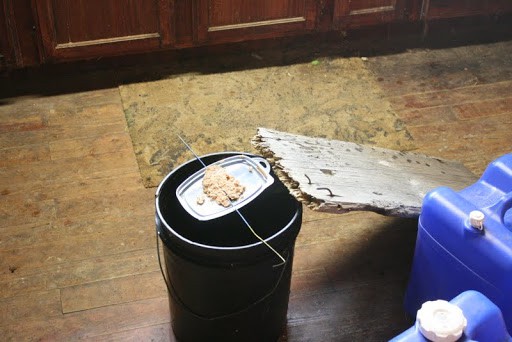 You can see how it works. The mouse comes up the board, finds the peanut butter, tries to get the peanut butter, steps out onto the can and falls into 6 inches of water with anti-freeze in it. The anti-freeze does two things. First, it keeps the water from freezing. Second, it acts as a wetting agent and soaks the mouse thoroughly so they drown faster. One thing I gained by using the can is that by carefully buttering the side of the can like a cake and moving the peanut butter around, I could achieve pretty good balance and keep the wheel spinning freely. The MK I version suffered a little on this. I think it lost effectiveness over the winter as the deli lid lost proper balance.
Last year, I came back to camp in March and found the bucket filled with. . . I'm going to venture a guess and say 6 mice. It was hard to say– they had decomposed rather badly. This year, going with the traditional design, I hope to have more.