. . . and mine as well. At least it will be for a long while. We spent the weekend at Lazy Boy and Midway, celebrating Angus' last deer hunt as a Youth. By next year, he will be 16 and be on and adult tag. It was Kentucky's early Youth Season– you know Yute Season, where the yutes go out with their yute rifles and . . . you get the idea.
The weekend itself was perfect– warm, dry, there was a moon at night. I don't think the temperature dipped below 50F. There was just one problem: it was devoid of deer. We did hear one on Saturday morning. It was a few feet from our blind at Lazy Boy just as we turned to the pasture. It sounded big– didn't snort, just thundered off down the hill. That was it.
This was also my last time out with my sons as Yutes. It turned a page in my life. It was way back in 2000 that I started taking Moose out to the county park to get him acclimated to deer hunting. He was 7 at the time. We put up a blind at the edge of a ball field and waited for sunset. After about a half-hour's wait, a half-dozen doe came out and started munching weeds in the outfield. I had put out a deer decoy, and it was fun watching the real deer interact with the fake ones. There were some guys practicing golf on a neighboring field. They yelled at us– guess they thought we were pestering the wildlife. I don't know what they thought THEY were doing; they were the ones hitting golf balls at the deer. Anyhow, that is how it all got started. Little Angus was still too small to go out with us.
Moose's first Yute hunt was not for some time. As I remember, it was 2003 before he and I had a trip out with him holding the rifle. Meanwhile both Angus and Moose were going out with me.  Here is the first time Moose watched me take a deer back in 2001.  By this time, he was 8 and joining me in the stand.
Here is an early picture of Angus from 2003. He was really good at sitting with me in the blind. I could take a nap and leave him to watch out for the deer. He picked this one out of a herd back in 2003 for me to shoot. He was so proud of it being his deer.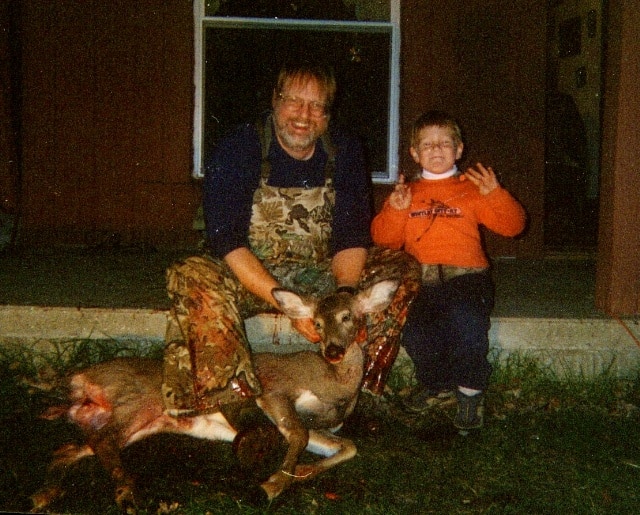 Moose had a slow start as a Yute hunter. It took several years for him to finally admit that he was shutting his eyes before pulling the trigger at deer. However, once grew a little and switched to the Garand, he was an uncannily good shot and good deer hunter. I required my kids be able to put three shots offhand on a pie-plate at 50 yards before they could hunt deer. Here is Moose's target: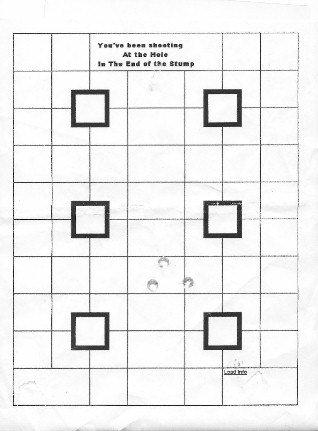 When Moose had his last Yute hunt back in 2007, I gave y'all a retrospective of all his hunts: They grow up so fast — Sigh!
Moose and Angus are of wholly different characters when they hunt. Moose? I have never seen him let a good hunk of venison pass his stand unscathed. Even as an adult, his eyes are on how that deer is going to look in the freezer, rather than what hangs on the wall. Angus? After his first doe, he has been holding out for The Big One. It has paid off.
Here's the whole story from his nice 8-pointer in 2010: Angus Bags a Buck in KY Yute Opener
And of course, there's Junior. You do not hear much about my oldest son. He's in his mid-20's now. He does not hunt. He does not come out to the farm much. He likes coming to deer camp, but he prefers long walks to long sits in the blind. He is on the autism spectrum. Things like blood and loud noises are not his bag.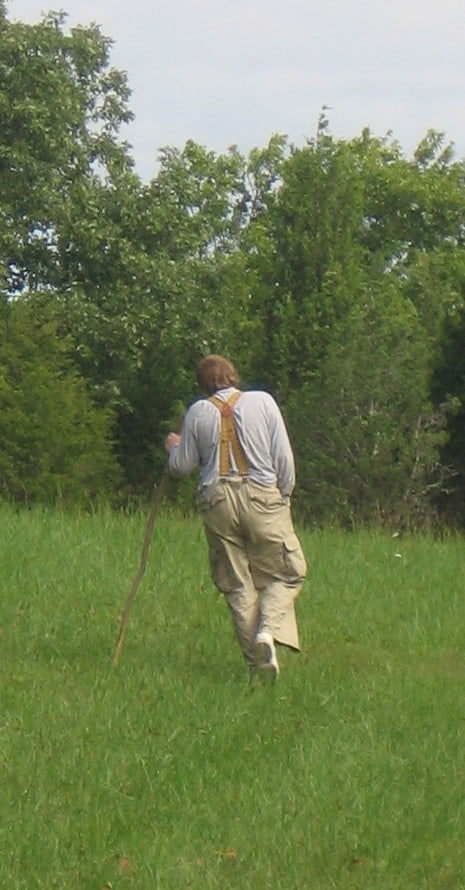 It has been 13 years since this all got started. Back then, I was wavering at being a deer hunter. I'd nearly given up, after the buddy who owned the last piece of land I hunted dropped over dead. I had this dream of having a place to go to on the weekends– someplace close by where I could take the family on the weekends so my sons would not grow up being mall rats. At the time, it looked like the farthest possibility in the world.
As it is looking right now, I've got this coming rifle season where I will be hunting with Angus on and off. I think we will have next Turkey Season together. I still have to check with someone on the clarification of the rules. Then it will be a half-dozen years or more before my first grand kid, Mooselette, comes on line.
"Angus' Last Yute Hunt"

,