I was down to open up Turkey Camp this past weekend. It was a no-muss, no-fuss trip. Went down Saturday, came back Sunday. I installed security cameras just before the start of deer season.  I was treated all winter to the deer coming and going. I caught a doe coming to the bedroom window and looking in on me at 0500.  She has been coming close to the house all winter. It will be interesting to see how she reacts when we start coming down more regularly again.
I had captured a sizeable number of mice in the Wheel of Death.  There was one that was still recognizeable. The rest had decayed to the point of being globs of sludge at the bottom of the pail.
The only mishap over the winter was the vegetable sprayer in the kitchen sink had water in the head. The below zero temps in January caused it to explode. Moose brought down a replacement. He and Angus dropped in Saturday afternoon for some shooting. When the left for a hike, I took a nap.
At 1700, I got up and retired to the back of the house for my evening cocktail and nature viewing, my first since well before Christmas. Sons #2 and #3 had taken their new cap and ball revolvers out to the Campground to shoot along with some other armament. This was their first time out since we closed Deer Camp as well.
Promptly at 1800, the deer started coming out. All told there were a dozen out in the field. The shooting did not seem to bother them. Even when Angus let loose a fuisilade with his 9mm carbine, they went on munching. What did seem to honk them off was the chatter. Campground is about 3/4 of a mile back on the extreme southern end of the farm. The deer were transfixed by the occasional laughter and comments. Eventually, they all threw up their tails and ran. This was well before my sons gave up and came in. There was another mass exodus as they came out. Deer and turkeys fled like their tales were on fire as the two walked out.
I watched all this from the Thoughtful Spot with my new Bushnell Sentry spotting scope.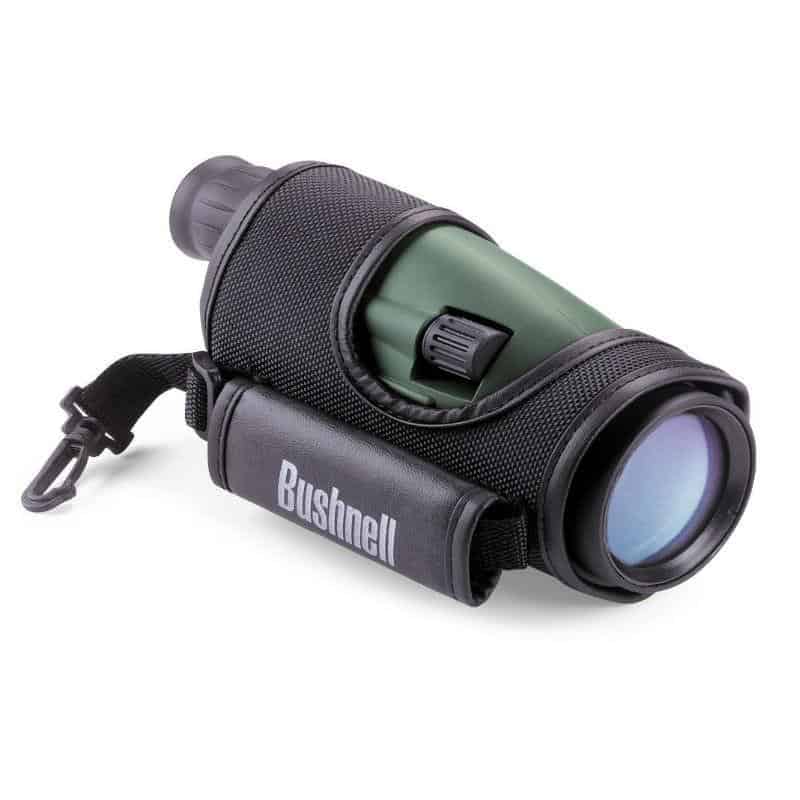 KYHillChick bought this for me for Christmas.  I asked for it because I was looking for a better spotter for deer– something that could resolve antler points at longer distances, and something less bulky than the big astronomical binos I keep at the Thoughtful Spot.  The Bushnell Sentry is a 12-36X50mm scope.  I was able to resolve the padlock on the Jagendehutte at 500 yards well after sundown as 12 power.