This was going to be our last chance. Angus and Supercore both had gone dry going into the last day of season. Saturday had been plagued with rain that had kept the gobs quiet and the hens hiding. Angus did manage to nail a coyote around sunrise that came to our calls. We could not recover the carcass.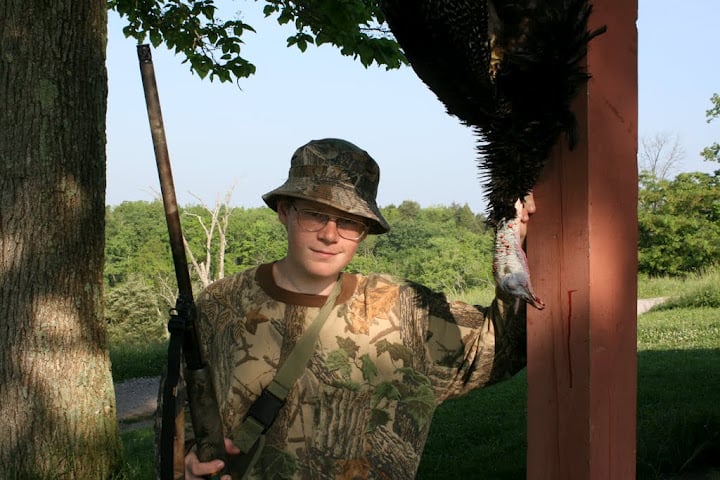 This was it– last day of season. SuperCore went out to Broken Corners. I took Angus to Quarterway– halfway between the Honey Hole and Midway. We heard nothing except a gobbler off the property getting cranked up, but there were a bunch of shots approaching 0800.
You will just have to listen to the rest:
I was on the other side of the tree from Angus, and did not see anything until he fired. You can hear a couple of clucks as two jakes came within a few feet of the blind and then started to spook as Angus brought his gun up. One ran off toward the Honey Hole. The other ran right into Angus' sights and a round of #4 Remington Nitro Magnum.
Good work, son!
SuperCore saw and heard nothing. After we got the jake skinned, I called SuperCore in and we went back out to hunt the Garbage Pit Burglar. He called a few times while we were on the porch, but after an hour, we could not get him to come closer to our blind at Fountain Square. Drat. It's a Butterball season for SuperCore, but he's had a great time.